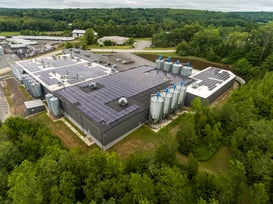 As the global demand for more sustainable and recyclable packaging continues to challenge the industry, brand owners and converters are stepping up and making impressive commitments for the holistic improvement of the sustainability of their packaging solutions, and taking the step to be a part of the solution on a macro-level. While a big part of this is developing a material solution that meets all packaging requirements in addition to being sustainable and recyclable, equally important is is ensuring sustainability along the supply chain.
At ICPG we are always looking for ways to reduce our carbon footprint, whether it be the implementation of new procedures, investments in new processing technologies, or the development of new materials. Continue reading to learn more about the steps ICPG takes within our own operations to help you advance sustainability along the supply chain:
Solar Energy System
Through the implementation of a new solar energy system, energy consumed at our Putnam, CT factory is now supplemented with power from solar panels, offsetting current on-site electric usage with clean, renewable, solar energy. The addition of this system we will generate over 14 million kWh of clean energy over a period of 25 years. To date, the system has produced the energy equivalent of over 670,000 gallons of water and over 100,000 gallons of gas.
visionX System

ICPG has implemented a state-of-the-art quality monitoring & control system called the visionX system, which provides real-time monitoring & control capabilities for multi-layer coextruded structures. While this is significant on many levels in terms of quality, consistency, and specifications, it also results in a more sustainable solution through structure optimization. Multi-layer barrier structures containing materials such as EVOH often result in over-engineered structures and over-use of materials to ensure adequate barrier protection. The visionX system allows for precise control over the individual layers of the multi-layer structure, thus presenting opportunities to optimize material requirements and cut down on unnecessary material usage. In addition, the increased accuracy of our material structures as a result of our control capabilities mean less overall waste for a more sustainable solution.
---
See how our visionX system works here!
---
Use of Recycled Materials
Recovery for recycling continues to play an increasingly important role in the effort to reduce packaging discards and overall solid waste levels. Innovations in PCR-PP and PCR-PET that expand the availability of Post-Consumer Recycled materials continue to drive the industry towards circular economy operations. To that end, ICPG presents customers with the opportunity to incorporate PCR materials into structures wherever appropriate.
In addition, through Impact Plastics, we can offer post-industrial recycled grades for non-critical applications as an economic and environmentally friendly alternative to virgin resins.
Air Make-Up System
The installation of our high efficiency Air Makeup System has reduced company wide consumption of natural gas by converting to a process heating system. This conversion allows our production facilities to control the air flow in and out of the building, effectively eliminating the need for natural gas as a heating source, all while reducing contamination within our production facility and creating a more comfortable working environment.
Rail Sites
Through implementation of rail sites at each production facility as our primary means of raw material delivery we have been able to significantly reduced company wide fuel consumption. Using this method for our raw material delivery allows for company-wide fuel consumption savings of thousands of trucks per year.
---
To learn more about our sustainable packaging solutions view the XPP Sustainability Infographic below: