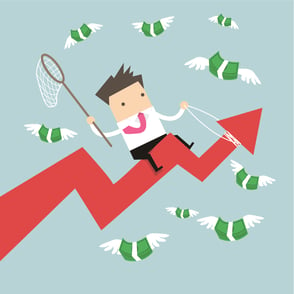 The global demand for plastic waste reduction and more sustainable packaging solutions has resulted in widespread initiatives to redesign food packaging solutions through various methods including down-gauging, light-weighting, material structure redesign & polymer replacement.
With many brand owners stepping up and making commitments to transition to more sustainable packaging and reduce the amount of material consumption across their portfolio by 2025, the race is on to develop alternative material structures that result in a more sustainable solution, without sacrificing performance, barrier protection, or mechanical properties.
Oh, and let's not forget - without adding cost or requiring significant capital expenditures to replace existing systems and processes. No problem, right?
But what if we told you that you could fulfill all of these requirements - sustainability, performance, compatibility - and SAVE money?
Sound too good to be true? Continue reading to learn about several characteristics of XPP that will help you put more money back to your bottom line:
Three words: density; weight; yield:
XPP offers enhancements to key properties in the form of a mono-material polypropylene-based barrier packaging solution – without the use of specialty materials, or mineral fillers. This means that XPP maintains the same density and weight as traditional polypropylene.
What does this mean for cost? Polypropylene has the lowest density & weight of all the polymers for a ~30% decrease in density from PET and a ~13% density reduction from HIPS.
This lower density directly correlates to an increase in linear feet of the rollstock material for the same weight. So, put simply, you get more parts from the same amount of material. Another way to look at this is by making the switch from polymers such as PET or HIPS, to XPP, you can see a potential increase in part yield of 13% vs HIPS and 30% vs PET.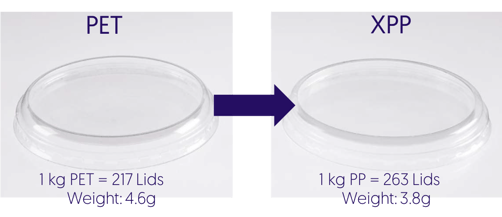 Further savings can be seen downstream as a result of light-weighting including reduced fuel consumption and other transportation efficiencies.
Process compatibility = minimal capital expenditure:
Compatibility with existing systems & processes is possibly one of the most daunting challenges converters and brand owners face when looking towards material replacement whether it be for achieving sustainability goals or satisfying Proposition 65 concerns. Ultimately, a solution that may check all of the boxes on other requirements becomes a non-starter if it requires a complete overhaul or replacement of existing systems and processes.
XPP offers enhancements to key properties including improved stiffness and controlled shrinkage, to maintain that "snap" characteristic of certain FFS applications, and allow for drop-in replacement of PS and traditional PP in thermoforming & FFS processes. Minimal switching costs & CAPEX are required to replace current solutions with XPP means the cost savings immediately go to your bottom line.
---
---

Precision gauge control means you get what you pay for – in a good way:
XPP is produced on precision extrusion equipment that offers real-time gauge control and quality monitoring for mono-layer and multi-layer extruded sheet. The overall gauge, or thickness, of the rollstock structure expressed in mils (thousandth of an inch) has the ability to drastically impact overall material spend. The gauge of the rollstock can ultimately affect to part yield in thermoforming and FFS; and if the gauge isn't carefully controlled during the extrusion stage, this can affect overall spend. While it may seem hard to believe that just one thousandth-of-an-inch has the ability to affect overall cost in such a significant way, it's a hard truth:
Example: .040 Mil Structure

+1 Mil
-1 Mil
10,000,000 * 2.5% Overage =
+250,000 lbs
10,000,000 * 2.5% =
-250,000 lbs
250,000 * $1.50/lb =
$375,000 Added Cost
250,000 * $1.50/lb =
($375,000) Cost Savings
Now, multiply that ten-fold, and it becomes clear that down-gauging initiatives and gauge control alone have the potential to make a significant impact on bottom line.
In addition to ICPG's precision gauge-control capabilities, XPP also offers enhanced stiffness attributes, which present the opportunity to down-gauge existing structures without sacrifice to processing characteristics or barrier performance.
Quality monitoring capabilities eliminate over-engineering & spend on extra material:
While XPP offers enhanced barrier protection in the form of a mono-material solution, for high barrier applications that require the incorporation of EVOH, our visionX system ensures precision control of the individual layers in the multi-layer structure, effectively eliminating the need for over-engineering. This means that we aren't adding more EVOH than is necessary to achieve barrier specifications "just in case." When it comes to controlling cost, this means that we only use the exact amount of material required for expensive barrier materials like EVOH. These precision capabilities also present the opportunity for optimization of existing high-barrier multi-layer structures and the potential to cut down on the amount of expensive EVOH used.
---
Want to learn more how you can stop leaving money on the table by switching to XPP?
Download the Achieving Economic & Environmental Cost Savings with XPP Case Study to learn how XPP can put more money back to your bottom line: