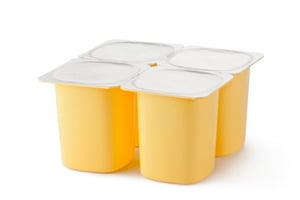 Polystyrene has long been the material of choice for form-fill-seal food packaging applications from yogurt multi-packs and single-serve creamers, to pudding cups, single-serve condiments and more. The reliance on polystyrene for FFS in the past has largely been for it's ease of processing, low cost, mechanical properties and proven performance. Additionally existing systems and process have been designed around processing polystyrene material structures for these types of applications.
However, the global demand for plastic waste reduction & more sustainable packaging solutions is pressing down on us and the status-quo is no longer acceptable. Consumers are demanding more sustainable and recyclable solutions that offer the same level of convenience that current packaging provides. Additionally health and safety concerns as a result of Proposition 65 have added additional pressures to transition polystyrene structures to alternate materials.
The prospect of daunting capital expenditures and less-than-ideal processing outcomes have stalled qualification and commercialization of alternative solutions. But what if a solution existed that maintained all of the positive attributes of current materials - processing, function, barrier protection, quality, and cost - but in the form of new formulations and technologies that resulted in a more sustainable product and did not require the replacement of billions of dollars of processor owned systems?
---
With ICPG's XPP™ Enhanced Barrier Polypropylene, we can now offer a solution that checks all of the boxes to provide the perfect PS replacement solution for form-fill-seal food packaging applications, from yogurt multi-packs, to single-serve creamers, to pudding cups, single-serve condiments & dips, shelf-stable beverages, and more.
Below are 9 attributes of ICPG's XPP Enhanced Barrier Polypropylene that make it the ideal PS replacement solution for form fill seal processes:
1. Snapable
One of the key attributes that a material must have when used in form-fill-seal processes for multi-packs is "snapability" and "scorability." This is an essential function because of multi-pack configurations where cups are packaged as 2 or 4 packs that then need to be easily snapped apart for consumption. XPP offers mechanical enhancements with a high flex modulus / stiffness of 450,000 Psi vs 275,000 Psi for polystyrene and 250,000 Psi for traditional polypropylene (resin and grade dependent.) Typical polypropylene materials do not offer the required snap because of the softer ductile nature and lower flex modulus of the material. This enhanced stiffness mimics of polystyrene, offering the "snapability" and "scorability" required for FFS, and allowing for compatibility with existing FFS systems designed for the processing of PS.
---
---

2. Extended Shelf-Life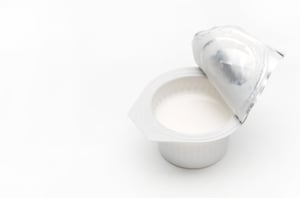 Each year billions of dollars are lost due to food spoilage at the retail level. Outside of this financial impact, there are also environmental costs associated with food waste and waste to landfill. Modifying packaging design through the use of innovative materials to extend shelf-life by just one day can help recover a significant portion of that waste and the cost associated with it. XPP offers enhanced barrier performance, with an 100%/150% OTR/MVTR improvement vs PS and an 90%/90% improvement in OTR/MVTR over traditional PP - before the incorporation of high barrier materials such as EVOH. If the application requires it, EVOH can be incorporated using ICPG's multi-layer extrusion line to meet shelf-life targets. The result is an enhanced barrier material, that optimizes material usage and extends shelf-life, resulting in greater sustainability and cost savings for brand owners.
3. Controlled Shrinkage
A common issue when evaluating polypropylene for form-fill-seal processes is the amount of shrinkage observed while processing. In form-fill-seal, this causes downstream issues in the process which make it challenging to process the material through the line and cause alignment issues between the formed cup and the trim station. With XPP, material shrinkage is controlled to offer processing similar to polystyrene, allowing converters to use the material without having to make significant capital expenditures to replace existing tooling and systems.
4. Easy-peel
In extended shelf-life form-fill-seal food packaging, bond of the lidding film to the substrate, as well as the ease of peel-ability of the lidding film from the package at time of consumption are key requirements. With polypropylene as the food contact layer there are many excellent sealant options to improve the peel characteristics of FFS lidding systems. In order to draw a comparison all you need to do is peel the lid-stock from various single-serve polypropylene container applications such as shelf-stable applesauce or pet food containers to feel the difference.
5. Increased Yield
Polypropylene is the lightest weight and has the lowest density in comparison to other commonly used food packaging materials. In thermoforming and form-fill-seal, this directly translates to an increase in yield on pounds purchased - so you get more parts from the same weight of material. This results is a 12% yield advantage over polystyrene.
6. Controlled Economics
Over the years there have been many solutions proposed to the market claiming to offer enhanced sustainability. But while they may be more sustainable, they often come at a cost premium. With XPP, we can now offer a more sustainable solution at a cost advantage. A significant component to the cost savings of these materials comes as a result of structure simplification and our controlled process. By simplifying structures, made possible through XPP's enhanced barrier attributes, we can cut down on the amount of expensive barrier materials used. Additionally, using ICPG's proprietary multi-layer coextrusion line equipped with our visionX system, we can hone in on the barrier requirements and tightly control specifications through visions X's individual layer thickness monitoring, to ensure that only the required amount of materials are used thus eliminating the need for over-engineering.
7. Recyclable
Many alternative barrier material structures used today in form-fill-seal processes are made from a complex mix of materials, designed to deliver optimal performance and barrier properties. While these materials deliver based on performance, they do not necessarily offer the most sustainable solution, as structures must often be recycled using the Resin ID Code (RIC) #7, which can pose a challenge for brand perception and recycling/re-use opportunities. XPP material solutions offer a simplified material structure, that continues to deliver on performance, while being 100% recyclable using the polypropylene RIC #5.
---
---
8. Proposition 65 Compliant
In addition to pressures to transition to more sustainable & recyclable packaging solutions, health and safety concerns as a result of Proposition 65, have added additional pressures to transition food packaging solutions from polystyrene to a healthier alternative. Polypropylene is the ideal material solution, as it is a very clean material and possesses excellent organoleptic properties for food packaging solutions. However, from a processing standpoint, material solutions developed in PP have fallen short. Due to enhanced stiffness attributes that offer compatibility with existing platforms, XPP now offers a solution that complies with Proposition 65 guidelines for material replacement as well as delivers from a processing standpoint.
9. ICPG Team
While not exactly a material attribute, when you take the first step to developing with XPP, you get the added benefit of working with the ICPG team. We understand that change can bring challenges, and simply put, we're here for you. New projects come with a dedicated team that will work with you all the way from development, to commercialization, and beyond, offering on-site processing support for material trials and qualification, as well as on-site support for any issues that may arise once commercialization is achieved. Our team is comprised on industry veterans with collective decades in experience, not just in extrusion and material development, but also in thermoforming, form-fill-seal and packaging sterilization processes. So that when the time comes, we possess an intimate understanding of your process and can help troubleshoot and overcome any learning curves to get your new and improved sustainable product on store shelves faster.
---
To learn more about the attributes of ICPG's revolutionary XPP Enhanced Barrier Polyproyplene for PS replacement in form-fill-seal, download your copy of the XPP product sheet: