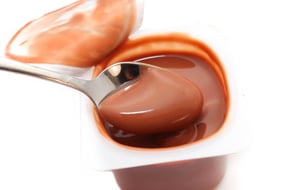 There's something about eating a snack-pack that makes me feel like a kid again. Maybe that's because when I was a kid, these type of peel-and-eat, pre-portioned snacks were marketed towards parents as a convenient, take-it-with-you, portion-controlled snack or addition to your kid's lunch box.
Today's snack-pack offering has changed to include products marketed to adults seeking easy and healthy snacking solutions made with quality ingredients that come in portable single-serve packaging. According to TrendHunter, snack packs appeal to the "nostalgia-driven market of Millennials entering the workforce," and brands are "… elevating their offerings with premium ingredients remain cognizant of leveraging classic-yet-convenient packaging of familiar childhood treats…"
Continue reading to learn more about some of the key considerations when developing rigid packaging materials for snack-pack products and how ICPG can help.
---
What are the barrier requirements?

There are various factors to consider when defining target shelf-life for shelf-stable food products ranging from the product itself to the packaging and filling process. For instance, a multi-component snack pack may offer a variety of foods such as crackers, fruit, cheese and protein which are packaged or combined in single-serve multi-compartment trays. A refrigerated multi-snack container may only require a non-barrier or low barrier structure to achieve the target shelf life utilizing M.A.P. In comparison, a shelf stable product, such as a snack pack FFS pudding multi-pack, requires higher barrier protection, which is achieved through a multi-layer rollstock structure using EVOH to meet the extended shelf life target. Understanding the respiratory and spoilage rates of the individual food components also plays an important role in identifying the target packaging, material structure and performance requirements to meet the desired shelf-life.
One of the primary elements to achieving target shelf life is understanding the required OTR (Oxygen Transmission Rate) and MVTR (Moisture Vapor Transmission Rate) specifications, then developing a material structure with the appropriate barrier characteristics to protect the product throughout its desired shelf-life performance. Development of high performance structures can be achieved through a multi-layer coextrusion process leveraging materials such as EVOH to achieve the required OTR requirements. In addition, it is critical to ensure optimal material distribution is achieved to meet the minimum barrier thickness given depth of draw and avoiding sharp angles such as bottom corners during the container design phase.
Optimizing the material structure through the use of innovative materials, such as ICPG's XPP Enhanced Barrier Polypropylene, can present opportunities to extend the shelf-life of both shelf-stable and refrigerated single-serve snack pack products, by providing up to 80% enhancement in OTR and MVTR properties before the incorporation of EVOH for a simplified and recyclable barrier material structure. Use of such materials can present opportunities for down-gauging and design innovations that maximize usage & cup capacity, providing optimal barrier performance without over-engineering and excessive material usage.
What is the processing method?
Whether using pre-formed containers or roll stock for form fill and seal applications, understanding the processing methods utilized in packaging shelf-stable snack packs directly correlates to material choice to enhance package performance, maximize efficiencies, product safety and ultimately provide a higher level of economic value. Common thermoformed rigid packaging for shelf-stable snack pack products can be used with processing and sterilization techniques such as aseptic, retort, hot-fill, HPP, MAP, fill-seal, form-fill-seal and cold fill processes. Specialty materials such as ICPG's XPP Enhanced Barrier Polypropylene offer improvements to key performance attributes, such as increased stiffness and controlled shrinkage, to offer a drop-in solution compatible with a variety of processes, including form-fill-seal.

What is the best material choice?
Today there are more choices than ever when considering the best material for shelf-stable snack-pack products, and developing a rollstock structure that meets all key requirements for barrier performance and shelf-life expectations, while providing opportunities for customization to enhance brand differentiation and awareness is key. ICPG provides material solutions using traditional substrates such as polypropylene and polystyrene with enhanced performance and protection capabilities for direct food contact and extended shelf-life requirements.
The type of packaging and processing method as well as the product's target shelf-life can affect material structure design. For example, a commercially packaged multi-compartment shelf stable container needs to provide the required level of barrier protection while being aesthetically appealing and providing the expected level of functionality. The barrier specifications would determine whether a non-barrier, low to medium or a high-barrier coextruded structure would offer the best performance. In each case, ICPG manufactures these structures in clear, tint and opaque formats with a variety of additional customizable options to increase brand awareness and differentiation.
Additionally, with increasing industry pressures on sustainability and Proposition 65, material replacement concerns add a new layer of consideration when developing a rollstock for single-use shelf-stable food packaging materials. ICPG's XPP enhanced barrier polypropylene offers a fully recyclable & Proposition 65 compliant, drop-in solution that is compatible with existing processes such as form-fill-seal.
---
Interested in learning more about how you can enhance the performance and sustainability of your extended shelf-life snack pack packaging solutions? Download our Snack Pack Packaging Solutions Info Sheet to learn more: