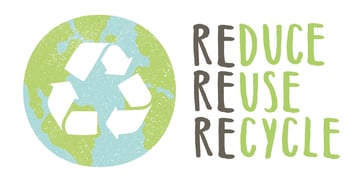 Have you heard of the term, "Monstrous Hybrid?" Yes, it sounds a bit scary and no, I didn't make it up. It is, however, a factor when considering the third "R" of our series- recycling. So let's get into it!
The term monstrous hybrid was coined by Michael Braungart and William McDonough, creators of the Cradle to Cradle® design principles developed in the 1990s, refers to a "product, component, or material that combines both technical and organic nutrients (such as recyclable paper and poly-vinyl-chloride) in a way that cannot be easily separated, thereby rendering it unable to be recycled or reused be either system." (Definition via Sustainability Dictionary) Essentially, this term refers to product made from a mix of materials that cannot be separated, thus rendering the entire product not recyclable.
When it comes to packaging & sustainability, this concept is a key point of consideration when designing (and redesigning) packaging for maximum recycling potential. At first glance, the development of food packaging materials may seem simple, but in reality it is a function of a variety of factors, from food product, to part design, processing conditions and more that ultimately contribute to meeting functional application requirements. Often, in order to meet these requirements, several materials must be combined through the manufacturing process.
Considering the complex specifications of food packaging materials required to keep the product safe until the point of consumption, including barrier requirements, it can be safe to say that many commercially used food packaging material structures fall into the category of a "monstrous hybrid" whether it be flexible or rigid packaging. A couple of examples include common rigid barrier food packaging structures that use a combination of materials include PET/EVOH or HIPS/PVDC, or flexible barrier packaging that use a combination of thermoplastic resin materials along with aluminum for OTR/MVTR barrier protection. While some of these materials may be recyclable on their own, as the definition explains, the inability to separate these materials means that they are not recyclable through existing recycling streams and will therefore not be diverted for reuse, thus emphasizing the importance that material selection plays in designing packaging for maximum recycling potential and reuse.
ICPG is in the business of producing plastic packaging materials with an emphasis on refrigerated and shelf-stable applications. We strive to help brands and converters redesign products in a way that helps them achieve their internal goals as well as public commitments - a key part of which is designing packaging with recycling in mind. So, when it comes to evaluating plastic packaging materials for maximum recyclability, what is important to consider? In the third and final post of this three part series, we continue the process of taking the steps to rethink considerations for eco-conscious material selection as it pertains to the "Three R's", and next up is recycling.

Recyclability Definitions:
When it comes to defining what is "recyclable" in terms of plastic packaging, it can get complex. What is accepted for recycling & diverted for reuse versus what is sent to the landfill is often determined by the local municipality. In the US there is no national law that mandates recycling, leaving it up to the states to provide guidance and establish guidelines, which can lead to inconsistencies. So just because your packaging is made of a certain material does not mean that it will be universally recyclable.
To make it more confusing for the consumer, the little number at the bottom of plastic containers inside a recycling symbol has nothing to do with if a material is recyclable or not, it is simply telling you what material it is. If your state or municipality has clearly defined guidelines for recycling, this can be helpful by allowing the consumer to identify what material their packaging is produced from and determine recyclability before sorting and ultimately reducing contamination in the recycling stream.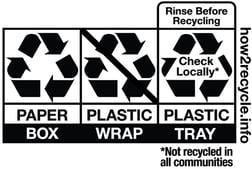 When designing packaging for recyclability, it is important to consider the varying definitions of "recyclable" and where your solution fits. Organizations such as How2Recycle have worked to simplify this process by developing a standardized labeling system that clearly communicates consistent on-package recycling instructions and information to consumers in North America. Brand owners & CPGs can submit their packaging to this organization and receive a label that will clearly identify how to recycle, or dispose of, the various components of a food packaging system. To issue a label, How2Recycle will assess the recyclability of each component of the packaging solution (i.e. paper, plastic wrap, plastic tray, etc.) based on multiple criteria including, public access to curbside or drop-off recycling programs accepting the material, the chances that the package will be sorted and reprocessed correctly and if end markets exist for the material. Recyclability categories from How2Recycle include:
Widely Recyclable
Check Locally
Not Yet Recyclable
Store Drop-Off
In addition, manufacturers of different components can receive a "pre-qualification label" from How2Recycle, which simplifies the process for brand owners once they begin the process of receiving a label for the entire packaging solution.
---
---
In addition to issuing recycling guidance, How2Recycle closely follows changes in the recycling system in order to accurately assess the recyclability of all packaging. Based on this, the organization periodically places materials under review to conduct research and assess if any changes warrant a change in the label for a particular material. For example, PS was recently downgraded from "Check Locally," to "Not Yet Recyclable," based on the limited end-use market potential for the material and low recycling volume. In addition, rigid black packaging was downgraded to "Not Yet Recyclable" unless it is able to be detected by near infrared (NIR) sortation equipment.
Another great resource to help determine the recyclability of your plastic packaging solution is the Association of Plastics Recyclers (APR). APR has developed the APR Design Guide, which determines a plastic package or item's recyclability beyond whether a specific municipal program collects it or whether it is made from a particular material. This guide helps producers design packaging against industry accepted criteria to ensure packaging is truly recyclable and identities the recycling compatibility of plastic products as: APR Design Guide Preferred, Detrimental to Recycling, Renders Package Non-Recyclable, and Requires Testing.
Relying on these organizations and resources at the beginning of the design process will help set the stage so that your packaging has the best change of meeting recyclability standards down the line.
Material Complexity:
While the definition of recyclable might be a bit hazy, what is clear is that the complexity of the material structure plays a part in determining the recyclability of packaging. According to the Consumer Goods Forum, "one reason why plastic packaging ends up in nature is due to the complexity of the recycling process, which can be complicated by poor packaging design, the inclusion of problematic materials and the presence of excess packaging."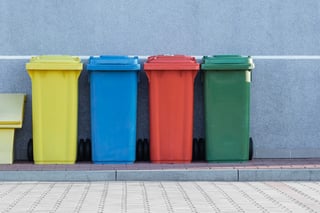 To increase the likelihood that packaging will be accepted for recycling, simplification is key. As discussed, many barrier material structures are composed of a complex mix of materials in order to achieve the desired OTR & MVTR specifications required to meet shelf-life targets. This poses a challenge for recyclability because the mixed materials could lead to contamination of a mono-material recycling stream. This means taking steps at the design, or redesign, phase to ensure you are simplifying the structure wherever possible to avoid creating a monstrous hybrid including:
Seeking alternatives to materials that render the structure incompatible with existing recycling infrastructure and acceptance criteria (i.e. a barrier RIC #7 vs a #5)

Selecting materials with a viable market for reuse
Using monopolymer solutions, or solutions that can be recycled as monopolymer, where possible
ICPG's XPP solutions are produced from polypropylene materials and can therefore be recycled using the polypropylene Resin ID Code #5. Even in high barrier form (coextruded with EVOH), the amount of EVOH used is not enough to cause contamination of the recycling stream and can still be recycled as a #5. In comparison, alternative barrier material structures such as HIPS/PVDC must use the Resin ID Code #7 symbolizing "Other", which limits opportunities for recycling and re-use in other applications.
In addition, XPP materials can be processed like other thermoplastics (without crosslinking) and can thus be recycled easily. XPP can be recycled multiple times either in a closed loop system or as part of the circular economy without losing its structural integrity. XPP solutions can therefore be recycled & reused back into various applications maintaining its mechanical properties after multiple heat histories.
Recycling Infrastructure Investment & Public Access:
When designing & redesigning packaging solutions for sustainability, it is important to follow where the investments are being made in recycling, as this will give you an idea of what materials are likely to be recycled at a significant scale in the future. Several organizations including the US Plastics Pact with their list of "Problematic and Unnecessary Materials," identify specific materials that they recommend be phased out of packaging solutions, the primary reason being that these materials are detrimental to the recycling system or are not anticipated to be recycled at scale in a way that would promote reuse.
As mentioned above, recyclability is affected by a number of factors from the availability of recycling programs for a particular package, consumer access to drop-off or curbside recycling for said packaging, to the material composition itself. Ultimately recycling is a business, and in order for recyclability of a particular material to be practical, the material needs to be recycled at scale. Organizations such as The Recycling Partnership, whose mission is "solving for circularity," help direct investment in an organized way so that we are all working towards a common goal, providing investment to help communities update underperforming recycling programs and increase access to recycled materials, and partnering with corporations to help meet their sustainability goals and commitments.
The Recycling Partnership's "Pathway to Circularity" identifies that according to FTC Guidelines an item must meet a majority access of 60% in order to be considered recyclable. This means that 60% of consumers must have access to a recycling program that recovers the item from the waste stream and diverts it for reuse. This organization has several coalitions, such as the Polypropylene Recycling Coalition, dedicated to helping increase & improve public access and infrastructure for materials that have been identified as key to achieving the goal of a circular economy.
Recycled Content:

Recently, and on a global scale, there is an increasing push to incentivize brands financially to include recycled content in their packaging solutions and many brands & CPGs have included the incorporation of recycled content as part of their sustainability commitment. With the introduction of Extended Producer Responsibility and the UK Plastics Tax, brands and retailers are looking for ways to achieve the required threshold of 30% recycled content. Before we get into the options, it is important to note that simply because a product is derived from or contains recycled materials, does not mean that it is recyclable. Take for example recycled polystyrene that is recycled through a mechanical recycling process (rPS). PS, however, has been identified as a material to eliminate in packaging mainly because this material is not expected to be recycled at scale anytime soon. So even though the packaging may contain recycled material - where does it go after the consumer throws it away? Most likely to a landfill.
Recycled content for use in packaging can be derived from two sources: post-consumer recycled materials, or pre-consumer, also known as post-industrial, recycled materials:
Post-Consumer Recycled Materials: Post-Consumer Recycled materials refer to materials that were collected from public recycling efforts. These materials are collected by local recycling programs, sorted, and purchased by an organization that will re-process the material so that it can be reused into new applications.
Pre-Consumer Recycled Materials: Pre-consumer materials are collected from process waste at the manufacturing level - so they are not materials that ever reach the consumer but could become waste nonetheless. Diversion and re-use of these materials is just as important from a waste reduction perspective and can offer a more cost-effective alternative to post-consumer materials.
Use of these materials certainly have the potential to make a significant environmental impact both from a waste reduction perspective but also for reducing energy consumption and the extraction of finite resources.
Similarly, following the innovation & investment is key. For example, a company called PureCycles Technologies, who through a physical separation/purification process, has developed the capability to bring the PCR PP iback to a near-virgin like state, with nearly identical performance, properties, and processing attributes to virgin homopolymer PP. This process also results in a clear material, as the purification process removes all colorants and contaminates.
---
To learn more about how you can reduce your environmental packaging solution check out ICPG's sustainable material replacement solutions for thermoformed and form-fill-seal food packaging: