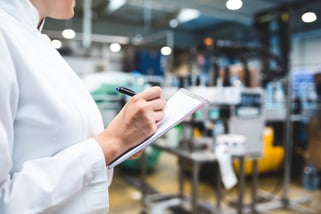 At the heart of ICPG's mission is a desire to empower our customers' pursuit of innovation by supporting them throughout the entire development process – from concept to commercialization. However, we understand that change inevitably brings challenges, and the key to helping our customers realize their pursuit of innovation in food packaging is hands-on technical assistance from an experienced and passionate team.
This can be particularly true in the case of material replacement initiatives, where concerns ranging from material function and performance, to sustainability and supply chain, all come into play.
This means that ICPG's job doesn't stop once the rollstock is shipped out the door – in fact, it is when our job really begins. Whether it be the qualification of ICPG as a new supplier, a full part re-design, or material replacement trials, ICPG offers technical support services designed to help our customer efficiently overcome challenges and bring your most innovative ideas to life.
Continue reading to learn more about ICPG's hands-on technical support services for material replacement initiatives:

Custom Rollstock Development:

When working with ICPG, there is no such thing as a one-size-fits-all solution. For every new project, we start with the customer application and work backwards, meticulously refining rollstock structure and material choices, accounting for critical packaging requirements based on food product, part design, processing conditions, distribution environment, retail conditions and any other necessary requirements.

In addition, our on-site quality lab is equipped with state-of-the-art material testing capabilities including:



Oxygen Barrier Testing – Measures the oxygen transmission rates for sheet & formed parts.
Ash Content Testing – Measures the percentage of inorganics (i.e. mineral filler) in a material.
Haze Testing – Measures the transparency of a material.
Tensile & Flexural Testing
Peel/Pull Test – Measures the peel force/strength of a package with lidding film or between layers.
Microscopy - Measures the individual layer thickness in a multi-layer sheet structure.
Melt flow testing- Measures the melt viscosity at different constant load and low shear rate.
Color/Opacity- Measures the opacity of a material.
Refractometer- Measures the silicon % in a solution mix prior to coating.
And more! Our comprehensive in-house material testing capabilities means we can complete a vast range of quality control and testing procedures to ensure the specifications of your material before it gets to your door!
In-house Design Consultation:

Equipped with decades of real-world experience in thermoforming & form-fill-seal process requirements, material science, research & development, and design innovation & optimization, our team offers hands-on consultation regarding key material replacement concerns including:



Sustainability & Recyclability: With our robust portfolio of material solutions, ICPG helps our customers develop packaging solutions that take into consideration all of the factors that contribute to the sustainability and recyclability of a particular packaging solution, without sacrifice to other key requirements & specifications.


Down-Gauging & Light-Weighting Initiatives: ICPG's capabilities offer opportunities for down-gauging and light-weighting, resulting in reduced material usage for a more sustainable and cost-effective packaging solution. Our team of thermoforming experts are available to assist with part design modifications to ensure functional requirements are maintained.


Proposition 65 Guidelines: Conquer initiatives to replace PS in food packaging with a custom-developed solution from ICPG's XPP product line, designed to offer drop-in replacement of PS packaging solutions, without sacrifice to performance or functional requirements.


Process Compatibility: ICPG's team is equipped with intimate knowledge of a variety of packaging & sterilization processes, arming us with the knowledge necessary to make recommendations that check all processing requirements.
On-site technical support:

Perhaps the most daunting part of any material replacement process – the trial phase. At ICPG, we understand that the suitability of a material solution in theory, and in practice are completely different! All too often we see solutions presented that look great on paper, but present a whole new set of challenges when attempting to process on existing systems and platforms.

To help overcome the inevitable learning curves associated with processing a new material solution, ICPG offers on-site technical support at our customers facility for material qualification and validation trials. We're equipped with decades of industry knowledge in the complexities of thermoforming and food packaging, processing & sterilization methods, and we'll be there to troubleshoot with you every step of the way. All samples for material replacement initiatives are extruded on production-scale equipment, not a pilot line, so you can ensure consistency from trial phase to commercialization.
---
Ready to get your material replacement project started? View our market solutions brochure to learn more about our custom rollstock development capabilities:
---
Disclaimer: In these uncertain times, ICPG's main priority is safety. As we all begin to establish what the "new normal" means in our business and personal lives, ICPG's commitment remains the same – to empower the innovation of our customers by providing them with the highest level of customer service and technical support, and is ready and willing to adapt to the evolving health and safety requirement of our global economy. ICPG makes no warranty that our solutions are fit for any particular use, and it remains the customer's responsibility to ensure all requirements are met.