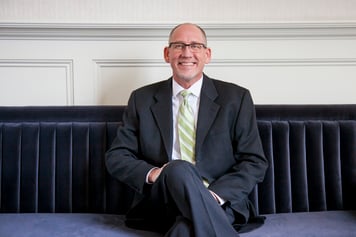 ICPG is excited to introduce you to our newest team member! Meet our Director of Business Development, Jonathan Cage! Jonathan brings over 33 years of industry experience to the ICPG team, with a focus on the development of multi-layer, coextruded barrier material structures, and a wealth of expertise in the technical, application, process and product development areas of barrier and shelf-stable packaging. Get to know more about Jonathan including, his experience as a barrier food packaging expert, and the innovations he is most excited to bring to the rigid barrier food packaging industry as the newest member of the ICPG team!
---
Tell us about the career path that led you here and what your role is within ICPG.
My early professional career began in thin gauge flexible films, eventually turning my focus to multi-layer barrier performance films in the food and medical markets. From there, I was presented with an opportunity to move into rigid plastics with primary focus on multi-layer high barrier coextruded thermoformed containers and FFS technology and the rest, as they say, is history!
I saw the chance to join Impact Plastics' newest division, ICPG, as the opportunity of a lifetime to join a highly progressive and collaborative company with a great philosophy and a highly capable team. Today as the Director of Business Development for ICPG, I have the unique opportunity to leverage my experience and skill set to fulfill many of the dreams and aspirations from my career, pulling from my years of experience with top tier market leaders in the plastics industry to develop, implement and commercialize new products, applications and opportunities with this exciting new division.
What was intriguing to you about working for Impact Plastics & the ICPG brand?
Having been in the rigid packaging industry for most of my career, I was intrigued and excited by the company's philosophy and commitment to investing in new state-of-the-art capabilities with a strategic focus on delivering a higher level precision, technology, development and sustainability for rigid multi-layer and monolayer performance materials. Additionally, I was impressed with the company's vision and dedication to being a truly value-added resource to customers, suppliers and industry partners, driving key points of development and engagement from concept to commercialization to support and accelerate customer projects, initiatives and platform development.
What is the most challenging application that you worked on in your career?
That's a great question as I have had the opportunity to work on many challenging applications throughout my career. Having said that, I would say that the newest ICPG innovation, our new barrier mono-layer polypropylene products, has been a unique and exciting challenge thus far. These new products deliver on material structure simplification and improved OTR/MVTR performance, in addition to providing fully functional sustainable barrier options and PS replacement for thermoformed and FFS applications.
What innovations are you most excited to bring to the barrier food packaging market?
Continuing from the previous question, the development of unique performance materials that have the ability to revolutionize the rigid barrier packaging market brings me a high level of excitement. ICPG's ability to offer a solution that delivers on structure performance and process function, as well as enhanced sustainability and recyclability to support brand owner commitments for more sustainable packaging solutions, excites me going to work every day. I feel that the industry and customers have been searching for a solution like this that offers improved package performance on all fronts, and to be a part of driving the next generation of sustainable solutions makes me very excited for the future of barrier food packaging and applications.
What brings you the most satisfaction when working in product development?
I love the challenge, team engagement and exploring the possibilities as key elements of the product development process! For example, in today's world there is so much pressure on developing new solutions and advancing technology, especially in plastics, as we look to address our most pressing concerns of sustainability and dependence on material resources. While I have been involved in product development for a significant amount of my career, today more than ever I believe we are at a critical point where the development of performance sustainable packaging that delivers on multiple levels, from reducing waste, to improving material performance and simplification, to establishing fully functional and capable recycle systems, is essential. Some of the new materials that we are working on today are delivering on that front and that brings me a tremendous level of satisfaction knowing that we are driving change through innovation and developing these new and unique material solutions for commercialization.