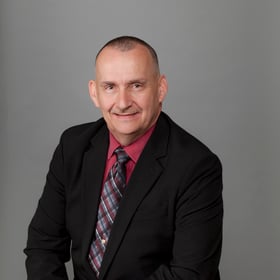 ICPG is excited to continue our Team Spotlight series and introduce you to the newest member of the ICPG team - meet our Plant Manager, DeWayne Taylor! DeWayne brings more than four decades of industry experience to the ICPG team, with a focus on equipment, materials, systems and procedures for multi-layer coextrusion, thermoforming and form-fill-seal processes.
Get to know more about DeWayne including, his experience as a barrier food packaging and processing expert, and the solutions and services he is most excited to bring to the rigid barrier food packaging industry as part of the ICPG team!
---
Tell us a bit about the career path that led you here and what your role is within ICPG.
I started working in the extrusion industry in January of 1980 in south-western Ohio, where I worked my way up as an operator and then into supervision. In 1985 I went to work for a large company working in barrier packaging on a new multilayer line that was just installed. Over the years I worked hands-on with many formulations of multi-layer barrier packaging rollstock as well as thermoforming our own containers, some which included unique design components such as printed graphics.
Since then, I have held various management positions including supervision, department manager and field service engineering customer-facing roles. I have worked with many customers and OEMS in the field and have been exposed to many FFS and thermoforming operations as well as end product users and brand owners. This has given me a comprehensive understanding of the systems and processes of our customers, and in turn, what is required from a materials and support standpoint. Having been in the business for over 40 years I have developed a reputable knowledge base and have formed great relationships with both customers and suppliers.
---
Some interesting facts about DeWayne:
He loves to play golf.

He's a lifelong blood and platelet donor, with over 40 gallons given so far!

His number one team is Indianapolis Colts football. His heart bleeds blue!

His favorite vacation destinations are the Gulf Coast Beaches and Alaska.
---
What was intriguing to you about working for Impact Plastics and the ICPG team?
When I first met with the team, I was intrigued by the prospect of joining a privately owned company that maintained an entrepreneurial culture. They were focused on growing the business and had a clear vision for that growth. I was hired into the company as the Plant Manager at our NC operation to begin shaping us for the future.
Given my background, I saw this as an exciting opportunity to utilize my skill set and help position the company as they worked to achieve that vision along with the rest of the ICPG team. I also liked that they were willing to invest capital into their operations - including physical plant, warehousing, and new equipment - in order to put themselves and their team in a position to offer the best to the industry.
What do you think is the most pressing challenge that the industry is currently facing? How do you think ICPG is prepared to address this?
Recycling, reuse and closing the loop on the "circular economy" for packaging solutions. Issues regarding sustainability, recyclability and material selection for multi-layer barrier structures to go green have been a top concern for the industry. ICPG has been working on the development of material solutions that can help overcome those challenges which have hurt our industry for years. Where others have fallen short we believe we have the solution for a sustainable and recyclable alternative that continues to deliver on barrier performance and processing/function.

What about ICPG as a company will serve to the benefit of their customers?
My experience in field service engineering has taught me that change can bring challenges, and ICPG wanted to make sure that we were able to offer our customers the support necessary to adapt to change - whether it be a change in materials, or a change in supplier. Our business model has been built to assist the customer from start to finish with our dedicated and experienced staff - from the commercial team, to engineers, quality group and management - we are positioned to offer support from drawing to realization. Or as I like to say "progression to perfection."