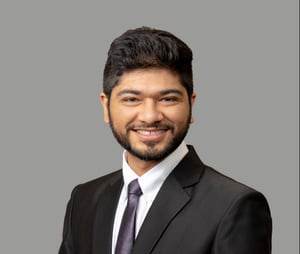 ICPG is excited to continue our Team Spotlight series and introduce you to another member of our team - meet Senior R&D Engineer, Jimmy Shah! Jimmy began his career with Impact Plastics as an Extrusion Process Engineer and today is an integral part of the R&D Engineering team at ICPG.
Get to know more about Jimmy including, his expertise in sheet extrusion and development of rollstock structures for food packaging applications, and the solutions he is most excited to bring to the rigid barrier food packaging industry as part of the ICPG team!
Tell us a bit about the career path that led you here and what your role is within ICPG.
I realized I had a passion for manufacturing when I used to accompany my father to his tools manufacturing facility. I was always interested in learning about the intricate manufacturing details of the product and process line for the various materials he worked with, including plastics. The more I learned about how plastic materials behave and how they can be converted into millions of different products using multiple processing techniques, the more interested I became.
This excitement and enthusiasm led me to choose plastics as my engineering major while pursuing a Masters of Science from University of Massachusetts Lowell. There, my focus and education research work were primarily in extrusion process with a focus on recycling to provide sustainable material solutions. Following completion of my degree in 2016, I accepted the position of Extrusion Process Engineer at Impact Plastics, with a focus on the development of non-barrier rigid packaging solutions for food and medical packaging. With the company's focus, growth and evolution into the barrier food packaging segment, I accepted the position of Senior R&D Engineer at Impact Plastics and ICPG, where I now apply my expertise on raw material formulation, cost out, quality control process and specification, and product development for barrier and non-barrier, lamination and coextrusion projects for food, medical, automotive and electronics packaging converted using thermoforming and form fill seal processes.
Having been with Impact for several years, what do you find to be the most exciting part of the new ICPG venture?
One of the most important points discussed during my first interview with Impact Plastics' owner and President, Dave Kingeter, was how everyone at Impact is encouraged to approach their work with an entrepreneur's mindset, and how he would like to bring on-board someone who shares those same values. That's when I knew that this position at Impact was a calling to kickstart my career. Raised in a household with a mid-size family business, I believe that I have inherited the basic qualities of an entrepreneur and, as a result, fit in perfectly with the culture at this company. Carrying forward the same legacy and values, what excites me most about the ICPG venture is the opportunity to work with a new and highly experienced team, who are committed to driving this industry towards sustainability to create and offer some of the most versatile materials to their customers and the community as a whole.
What innovations are you most excited to introduce to the barrier food packaging market as part of the ICPG team?
Impact Plastics has always been a market-driven company and thus ICPG was created to fill the gaps in the custom barrier packaging market to support converters and CPG's in their desire to develop packaging solutions that are highly innovative and cutting edge. Developing a material solution that delivered on barrier and mechanical properties, sustainability and process compatibility (drop-in solutions on existing platforms) with no added cost, was integral to achieving this. I believe that ICPG's new XPPTM Enhanced Barrier Polypropylene delivers on all fronts to offer a solution to this market that is highly customizable and is designed to meet or exceed the physical, mechanical, barrier, and sustainable characteristics of Polystyrene, helping brand owners achieve key sustainability commitments and material replacement initiatives.
What is the most challenging project you have worked on in your career?
I have had the opportunity to work on many challenging applications during my short time in this industry, but there are two projects that strikingly stand out - each designed around thin gauge, tight tolerance, mechanical and barrier functionality for the medical industry. The first, and one of the most challenging projects that I have worked on to date, was a project for a medical device application that we internally named, "The Pursuit of Perfect Gauge." For this project, a gauge tolerance of -/+ 2.5% on 0.014" polypropylene was extremely critical to the success of the project. This medical device product is now out in the market and is globally commercially available. The second, but equally challenging, project that sticks out in my mind was the one that involved both Impact and ICPG, using ICPG's custom formulated barrier rollstock structure and run on our new state-of-the-art multi-layer barrier coextrusion line. Once we achieved the goal of holding gauge tolerance of 0.0005", and were able to monitor the individual layer thickness within the multi-layer structure it in real time using our VisionX system, we knew it was a big success.