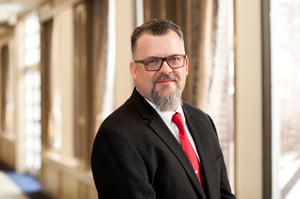 ICPG is excited to continue our Team Spotlight series and introduce you to another member of our team - meet our Operations and Engineering Manager, Loren Temple! Loren brings 30 years of industry experience to the ICPG team, with a focus on engineering, lean manufacturing and thermoforming design for high-barrier packaging applications.
Get to know more about Loren including, his experience as a thermoforming and barrier food packaging expert, and the solutions he is most excited to bring to the rigid barrier food packaging industry as part of the ICPG team!
---
Tell us a bit about the career path that led you here and what your role is within ICPG.
My father was a tool and die maker in the automotive industry, but his side hustle was leveraging his skillset in supplying lathed and milled pieces to a variety of manufacturers out of our garage. I spent my spare time in Pop's shop, learning how to machine pieces, "throwing chips" as many like to say - so not your typical childhood. However, this exposure set me on a college path to becoming a design engineer. Upon graduation, a local thermoformer was hiring. I needed industry experience and accepted the job, and within a year I was promoted to the Research and Development group and began my career path in converting plastics.
My first big project was the redesign of a well-known pet food container. The square tub was being supplied with Polyvinylidene Chloride (PVDC) as an Oxygen Transmission Rate (OTR) limiter. PVDC was phasing out in Europe and the United States was following suit. As a result, the tub was transitioning to an Ethylene Vinyl Alcohol (EVOH) oxygen barrier. The issue at the time was that the PVDC formed easily - early days EVOH, not so much. Multiple redesigns and testing followed. In the end, we were successful, and the design is still in use today. I smile every time I walk down the pet food aisle.
In my near thirty-years in the industry, I have worked in various roles from Design Engineer to Senior Project Manager, Manager of Technology, Engineering Manager, and now Operations & Engineering Manager for ICPG. I've worked on many of the industry's profiled projects including the aforementioned pet food container, the first polypropylene beverage pod (receiving a patent), retortable fruit, veggies and baby food preforms, Form-Fill-Seal baby food, creamers and yogurts, and everything in-between.
What innovations are you most excited to bring to the barrier food packaging industry?
Sustainability and initiatives to develop more sustainable packaging solutions have become an industry-wide priority. Past experiences have taught me that containers are often designed on the safe side - as in the safe side in terms of the amount of material, OTR's, and Moisture Transmission Rates (MVTR's), often resulting in over-engineering and material usage that goes beyond actual product requirements. Leveraging tools such as 3D CAD, Finite Element Analysis (FEA), 3D printing, and package testing, combined with ICPG's knowledge base, material innovations, and precision extrusion and quality control capabilities, we will be able to maximize the prototype cycle while minimizing the container's material requirements resulting in optimized material usage and a sustainable path out of the gate.
What is the most challenging application that you have worked on in your career?
A polypropylene beverage pod. The pod serves as more than just a vessel to carry coffee, teas, and powders; it is a functional container. The pod was polystyrene from its inception and the industry was looking for a solution that moved the pod towards improved recyclability. We spent years in the development of a polypropylene version. One look at the pod, one could not comprehend the engineering driving the evolution. I'm proud to say that I had a part in the evolution.
What is it about ICPG as a company that will benefit their customer base the most?
Many of us within the ICPG team have held various levels of technical positions. The team is well-versed in extrusion and thermoforming many different materials. Our collective experience, coupled with the sophisticated manufacturing equipment, CAD technologies, and quality assurance testing, positions ICPG to serve our customers with confidence and expertise.
Built on the foundation of industry experience, ICPG is ready to support our customers. Each of us pull from different backgrounds, ideation, positions held, and experiences. From Dave Kingeter, the President, and throughout our entire org chart, we know how to innovate and satisfy our customers.