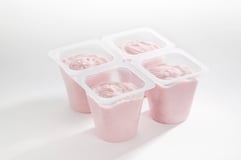 Yogurt, cream cheese, cottage cheese, sour cream, butter. What do these items all have in common? Yes, they're all classified as dairy products. But what else do they have in common? They're all perishable foods, which means when it comes to packaging and preservation prior to arriving in the dairy case of your grocery store they must undergo specific processing techniques and be packaged with a material structure designed to maintain product shelf-life and the safety and quality of the food product. Continue reading to learn more about some of the key considerations when developing rigid packaging materials for dairy products and how ICPG can help.
---
What are the barrier requirements?

Identifying and determining the shelf-life and organoleptic requirements of the product for dairy applications are essential components of the package development process taking into consideration food processing, UV degradation, supply chain, consumer appeal and intended use. With dairy encompassing such a wide variety of products, barrier vs non-barrier requirements for applications in this market are typically dictated by the food product, storage method and target shelf-life.
One of the primary elements to achieving target shelf life is understanding the required OTR (Oxygen Transmission Rate) and MVTR (Moisture Vapor Transmission Rate) specifications, then developing a material structure with the appropriate barrier characteristics to protect the product throughout its desired shelf-life performance. For dairy products requiring a high-barrier material structure, such as creamers, development of performance structures can be achieved through a multi-layer coextrusion process leveraging materials such as EVOH to achieve the required OTR requirements. On the other hand, refrigerated dairy products, with a shorter shelf-life, such as yogurt, typically have lower barrier requirements and often do not require the incorporation of EVOH.
Optimizing the material structure through the use of innovative materials, such as ICPG's XPP Enhanced Barrier Polypropylene, can present opportunities to extend the shelf-life of both shelf-stable and refrigerated dairy products, by providing up to 90%/90% improvement in OTR/MVTR properties vs PP and 100%/150% OTR/MVTR vs PS - without the incorporation of specialty barrier materials or coatings - for a simplified and recyclable barrier material structure.
---
---
What is the processing method?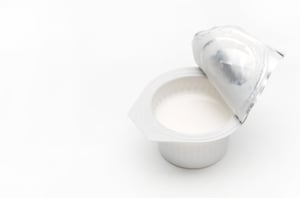 Whether using pre-formed containers or roll stock for form fill and seal applications, understanding the processing methods utilized in packaging dairy products directly correlates to material choice and target package performance in order to maximize efficiencies, product safety and ultimately provide a higher level of economic value. Common processing techniques for packaged dairy products include cold-fill, liquid-fill, fill-seal, form-fill-seal, UHT, pasteurization & aseptic processing. The packaging and processing method, along with the barrier requirements will play a significant part in determining the best material structure to maintain the safety and integrity of the product.

What is the best material choice?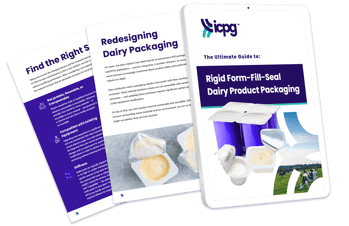 Today there are more choices than ever when considering dairy products packaging materials. Additionally, the type of packaging and processing method as well as the product's target shelf-life can affect material structure design. For example, if the product will be packaged in the form-fill-seal process, either HIPS or ICPG's XPP could be used. For thermoformed applications, PET or PP could be suitable based on application requirements. Target shelf-life and refrigeration will also determine if a lower-barrier laminate could be used, or if a high-barrier coextruded material structure is more suitable.
With increasing industry pressures on sustainability and concerns with Proposition 65, ICPG provides material replacement solutions for dairy products using polypropylene and PET with enhanced performance and protection capabilities for direct food contact and extended shelf-life requirements. Concerns for material replacement under Proposition 65 as well as sustainability and recyclability can be address through the development of a fully recyclable polypropylene or PET material structure using performance capabilities. ICPG's XPP Enhanced barrier polypropylene offers enhancements to key properties, including controlled shrinkage and enhanced stiffness to achieve the "snapability" and "scorability" required for FFS processes and is 100% recyclable.
What are the important quality control certifications?
With IMS and FSSC 22000 certifications, ICPG focuses on the importance of cleanliness and ultra-tight tolerances when extruding materials for dairy products applications highlighted by our state-of-the art visionX layer measuring system providing precision gauge control for our customers rigid packaging applications.
---
Interested in learning more about how you can enhance the performance and sustainability of your extended shelf-life dairy products packaging solutions? Download our XPP Product Sheet to learn more: