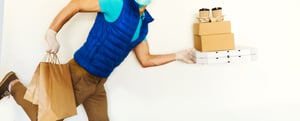 The global COVID-19 pandemic has certainly changed a lot when it comes to our daily habits, and our approach to on-the-go eating is no exception. To eat on-the-go - whether in your car on the way to work, or in between errands with your kids in the back seat - used to mean swinging through a fast-food drive-thru and quickly consuming, let's face it, an unhealthy meal. But today's modern consumer is no longer willing to sacrifice quality and healthfulness in the name of convenience.
The market for on-the-go, prepackaged foods, already one of the fastest-growing and trending markets leading up to the coronavirus pandemic, saw a significant surge as a result of consumers desires for increases healthy and safety measures. Take a look around your local grocery store and you will probably notice that self-serve salad bars and food steam tables have now been replaced by displays for prepackaged goods, driven by consumer demand for on-the-go food products packaged with tamper evident features that makes meal preparation convenient, easy and, most importantly, safe.
As we approach almost a year of living under the "new normal" of the coronavirus pandemic, what has become clear, is consumer attitudes towards health and safety are not going to change, presenting the packaging industry with the challenge of designing solutions that elevate safety and hygiene, are sustainable, and extends shelf-life for prepackaged products.
With increasing demand for on-the-go eating, the food offerings themselves are getting more complex and more gourmet to appeal to the desire for quality and healthfulness, which is where packaging considerations come in to ensure that the safety and quality of the meal is preserved. Continue reading to learn more about some of the key considerations when developing rigid packaging materials for on-the-go food products and how ICPG can help:
---
What are the barrier requirements?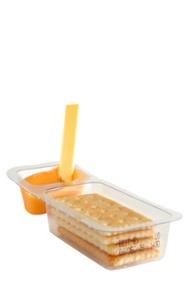 Identifying and determining the shelf-life and organoleptic requirements of the product are essential components of the development process for on the go food packaging materials taking into consideration processing, UV degradation, supply chain, consumer appeal and intended use. Different materials and material structures provide a variety of potential considerations ranging from critical food contact, sealability, taste and odor, shelf-life, top-load, sterilization, filling process and ultimately product food safety.
One of the primary elements to achieving target shelf life is understanding the required OTR (Oxygen Transmission Rate) and MVTR (Moisture Vapor Transmission Rate) specifications, then developing a material structure with the appropriate barrier characteristics to protect the product throughout its desired shelf-life performance. Development of high performance structures can be achieved through a multi-layer coextrusion process leveraging materials such as EVOH to achieve the required OTR requirements.
Optimizing the material structure through the use of innovative materials, such as ICPG's XPP Enhanced Barrier Polypropylene, can present opportunities to extend the shelf-life of both shelf-stable and refrigerated on-the-go food products, by providing up to 80% enhancement in OTR and MVTR properties before the incorporation of EVOH for a simplified and recyclable barrier material structure. Use of such materials can present opportunities to extend the shelf-life for prepackaged products previously packaged in non-barrier containers presenting the opportunity for product-line extension.
---
Click here to explore ICPG's XPP Enhanced Barrier PP solutions for on-the-go food packaging!
---

What is the target shelf life?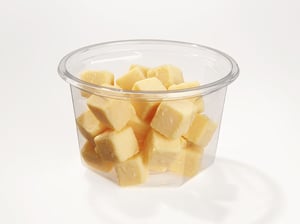 In today's evolving markets for on-the-go product applications, understanding and validating barrier performance is critical to supplying quality products to attract and retain customer and brand loyalty. There are a variety of rigid performance materials that are ideally suited to maximizing shelf life performance given the complexity of these products such as multi-component snacks combining meat, dairy and nuts. Material and processing conditions in combination with the natural respiratory or spoilage rates of the different food components are all critical considerations to achieving and maintaining product quality and meeting the target shelf life.
As consumer preference has steadily shifted toward fresh food, on-the-go alternatives with shorter shelf life requirements, packaging solutions have generally required lower barrier protection since products can be refrigerated or are expected to turn faster than traditional shelf-stable goods. ICPG's ultra-thin low-to-medium barrier co-extrusion and lamination capabilities produce thinner, customized barrier solutions for refrigerated and short shelf-life food products. In addition, ICPG's XPP material solutions provide enhanced barrier protection with up to an 80% improvement in OTR and MVTR over traditional PP solutions to provide enhanced barrier protection without the use of EVOH. Using our specialized materials and solutions, customers can now extend the shelf life of these products by incorporating our ultra-thin barrier technologies into their existing packaging, allowing for product line expansion all with minimal to no change in their equipment or process.
What is the processing method?
Whether using pre-formed containers or roll stock for form fill and seal applications, understanding the processing methods utilized in packaging on-the-go food products directly correlates to material choice and target package performance in order to maximize efficiencies, product safety and ultimately provide a higher level of economic value. Common thermoformed rigid packaging for on-the-go products can be used with processing and sterilization techniques such as retort, hot-fill, HPP, cold fill and modified atmosphere packaging.

What is the best material choice?

Today there are more choices than ever when considering the best material for on-the-go food products. With increasing industry pressures on sustainability and concerns with Proposition 65, ICPG provides material solutions using traditional substrates such as polypropylene and PET with enhanced performance and protection capabilities for direct food contact and extended shelf-life requirements.

Additionally, the type of packaging and processing method as well as the product's target shelf-life can affect material structure design. For example, a commercially packaged refrigerated M.A.P product will have different material structure requirements vs. a traditional extended shelf stable product. The target shelf-life requirements throughout the supply chain along with the type of food and filling process are key considerations to determining whether a lower barrier laminated PET or polypropylene or a high-barrier coextruded PP structure with EVOH would offer the best performance. To meet these varying requirements, ICPG offers both structures in clear and opaque formats with a variety of additional customization options to increase brand awareness and differentiation.
Promoting health & safety in the form of a sustainable packaging solution:
While health, safety and food preservation are all key requirements of packaging design for on-the-go food products, designing packaging for sustainability and recyclability continues to remain a key requirement as part of the global effort to reduce waste and promote circular economy practices – particularly in the wake of the surge of online shopping and food delivery as a result of the coronavirus pandemic. While the COVID-19 pandemic has given many a renewed appreciation for all of the benefits that plastic packaging solutions provide, it has also underscored the importance of continuing to work together to develop solutions that are sustainable, recyclable and advance the plastics circular economy.
ICPG's ultra-thin barrier capabilities for both coextruded and laminated structures provide precision layering control to enhance sustainability of our multi-layer structures, promoting structure optimization in the form of reduced material usage. In addition, our advanced XPP material solutions offer the possibility to extend the shelf-life of products currently packaged in non-barrier structures, cutting down on the amount of food wasted as a result of spoilage for polypropylene on the go food packaging..
---
Interested in learning more about how you can enhance the performance and sustainability of your extended shelf-life on-the-go food packaging solutions? Download our On-the-Go Packaging Solutions Info Sheet to learn more: