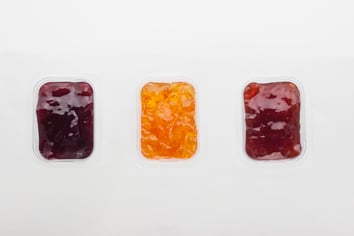 Use of hot-fill processing in conjunction with a horizontal form-fill-seal packaging system for rigid plastics presents an attractive way to take advantage of the efficiencies associated with cooking, sterilizing and packaging the food product on one platform. These high-speed platforms are designed to package a wide range of commercially prepared foods including single-serve condiments, jams & jellies and multi-pack pudding cups. Combining such individually complex processes increases the demands and specifications of the packaging materials to withstand the process conditions and maintain package and product integrity. While hot-fill applications can be used with both pre-formed cups and form-fill-seal packaging, each method comes with inefficiencies and limitations, leading to a "rock and a hard place" scenario for brands seeking to develop applications and expand product lines utilizing the hot-fill processing method.
In FFS, material selection for hot-fill applications was confined to multi-layer barrier PS or PVDC coated PS structures because traditionally that was the only material that offered compatibility with form-fill-seal platforms. However, the lower temperature range of PS in comparison to PP not only limits the range of food applications that can be processed, but can also slow down line speed and lead to process inefficiencies. In addition, as sustainability goals and targets have been brought to the forefront of packaging discussions, continued use and new product development with these materials presents a challenge from a recycling perspective for brands looking to achieve 2025 sustainability goals and commitments.
To combat the temperature & sustainability limitations of PS, the majority of hot-fill applications have transitioned to pre-formed cups produced from a polypropylene barrier structure. While this method results in recyclable packaging and expands the range of compatible food products, use of pre-formed cups results in logistics and production inefficiencies, and ultimately added cost in comparison to use of the high-speed form-fill-seal process.
With either choice, there was not a truly perfect solution - until XPP®! With XPP, you can satisfy sustainability concerns while improving processing efficiencies to take advantage of the full benefits that the hot-fill FFS process offers. Continue reading to learn how XPP helps improve efficiencies and solve challenges in hot-fill FFS applications:
Temperature Limitations Lead to Production Inefficiencies
Due to the nature of the hot-fill process, the temperature resistance of the packaging material is a critical specification that impacts not just product selection but line efficiencies and ultimately the production capacity of the hot-fill FFS platform. In fact, temperature limitations of the material are a likely reason why more applications are not produced using the hot-fill processing in conjunction with FFS today.
To start, let's take a step back and examine the temperature requirements of hot-fill processing. As the name suggests, hot-fill processing is a technique which uses heat to sterilize the food product and subsequently the inner surface of the container during the filling process. The process starts by initially heating the food product up to a temperature between 194-204°F as a method of killing bacteria and microorganisms present in the food. The product is then cooled slightly to around 179-185°F (application dependent), filled into containers, and sealed immediately. The sealed container is then cooled for approximately 2-3 minutes as it exits the filling line and transitions to a cooling stage to reduce the inner core temperature of the food product prior to being packaged for shipment.
Given the temperature whiplash experienced during the process, selection of a packaging material solution that can withstand the range of temperature changes is critical. Because FFS processing systems have been designed to run PS, applications have been designed to use either a multi-layer barrier co-extruded PS structure or a solution coated PS/PVDC structure - but the temperature resistance of PS limits the filling temperature at around 160°F at the highest. To accommodate, food must be cooked at a lower temperature with a longer dwell time to ensure the product has been properly sterilized and safe for consumption. This results in a slower line speed and through-put, ultimately leading to a lower production capacity per line.
In terms of alternatives, polypropylene offers the best fit for hot-fill applications, even in comparison to expensive high-heat PET materials. With the highest operating temperature in comparison to PS & PET, polypropylene can be filled at a temperatures up to around 205°F, allowing for a higher cooking temperature and a 25 - 50% reduction in cooking time (application dependent). Ultimately, this results in a faster line speed, increased through-put, and by extension an increase in production capacity as a result of the time saved just from a switch in materials. This savings can be significant, and as product lines and companies grow, could allow organizations to save on investments in capital equipment by increasing efficiencies on existing equipment.
While this sounds like a no-brainer, there's just one caveat - traditional PP has been met with significant challenges and is not well suited for processing on existing FFS lines designed to process PS - which is where XPP comes in!
Compatibility with Existing FFS Systems
Now that we have established that PP provides the optimal solution for maximizing efficiencies in hot-fill processing, it's time to tackle the second half of the platform - the FFS packaging system. As discussed, use of the FFS packaging process provides the ideal solution for high-volume production applications. However, FFS lines were historically designed to process PS materials - so a sacrifice had to be made. Either brands needed to sacrifice the efficiency of FFS, utilizing pre-formed cups produced from PP; or they had to sacrifice line efficiencies and application constraints as a result of the temperature limitations of PS. With the development of XPP, brands can take full advantage of the efficiencies and application versatility the hot-fill FFS process offers with a sustainable and process-compatible material.
In addition to superior temperature resistance compared to PS & PET, XPP offers enhancements to key mechanical properties in comparison to traditional PP, to offer similar performance to PS and drop-in process compatibility on existing FFS equipment and tooling including:
Controlled Shrink: XPP offers similar shrink rates to PS allowing for compatibility with existing FFS equipment and tooling. This is an inherent characteristic of the material achieved without the use of mineral fillers such as talc or calcium carbonate, thus maintaining PP density.

Increased Stiffness: Traditional PS mateirals offer a flex modulus/stiffness specification of about 300 KPsi. In comparison, XPP mateirals offer over 30% improved stiffness, resulting in a stronger and more rigid solution compared to traditional PP and PS. This increased stiffness also presents an opportunity for down-gauging and light-weighting of existing structures produced at thicker gauges to combat the wasting or paneling sometimes experienced during the cooling stage of the hot-fill process.

Snap-ability: This increase in rigidity & stiffness maintains the "snap-ability" and "scorability" of PS required in certain FFS applications, allowing for application versatility and product line expansion without the need to re-tool.
Inherent Characteristics of PP Offer Additional Supply Chain Efficiencies
In addition to the production efficiencies gained as a result of the higher temperature resistance of PP, use of polypropylene rollstock in hot-fill FFS processing affords a number of additional efficiencies at various stages in the supply chain
Efficient Material Consumption:

XPP is produced from 100% polypropylene materials, which is lighter in weight with a lower density in comparison to PS & PET. As a result, use of XPP solutions offer a 12% density reduction in comparison to PS and a 30% density reduction in comparison to PET. This density reduction results in a higher yield (more parts) during thermoforming processes, lighter-weight parts, less solid waste by weight and reduced material consumption in comparison to PS & PET.



| | | |
| --- | --- | --- |
| Material | Yield Factor | Consumption (lbs) |
| PS | 1.04 | 10,000,000 |
| PET | 1.33 | 12,780,000 |
| XPP | 0.91 | 8,800,000 |

Supply Chain Efficiencies: Use of rollstock in FFS vs pre-formed containers offers additional efficiencies in terms of supply chain simplification and shipping. For example, a truckload of pre-formed cups accommodates approximately 500,000 cups, which is produced from approximately 20,000 lbs rollstock. In comparison, a truckload of rollstock shipped direct for processing on a FFS line accommodates 40,000 lbs - enough to produce approximately 1,000,000 cups - all while taking a step out of the supply chain.

---
With sustainability as a primary driver of packaging redesign and material replacement initiatives, it is important to choose a packaging material that offers efficiencies and optimizes processing. As the packaging industry continues to evolve, there are many choices in packaging and processing, all with benefits and tradeoffs. Most important, is a material that fits into your process and meet the needs of your application while remaining sustainable and cost-effective. As organizations seek to expand product lines, use of a packaging and processing system in conjunction with a material structure that optimizes versatility is key to continue differentiating into new applications without the need for significant capital investment.
To learn more about XPP and how it fits with your application, download the product sheet today!