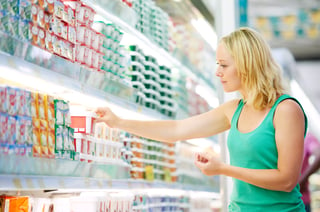 If you read articles on food packaging trends for the new year, packaging sustainability will without a doubt be on the list. Today, consumer demand necessitates that brands show a commitment to environmental concerns surrounding plastic waste and improving the sustainability, recyclability and circularity of their packaging. In response, a variety of innovations have emerged to offer an alternative to traditional plastic packaging from bio-based and compostable materials, to molded fiber and other non-plastic alternatives. In addition, guidelines regarding materials to avoid and methods to improve recyclability have emerged to help companies make the most sustainable choice from a material selection standpoint.
Outside of packaging, a way that brand owners may look to innovate in 2023 and beyond is in their product offering. Processing methods such as hot-fill are compatible with a wide variety of food products from jams and jellies, to puddings, apple sauce, baby food and more. Finding methods to utilize existing equipment while expanding and innovating product lines is key. As competition increases, there has been significant expansion of product offerings and innovation to meet consumer demands, resulting in more complex requirements on material solutions - now with the added caveat that it must be sustainable, recyclable, and in-line with circular economy goals. When considering hot-fill processing in conjunction with the form-fill-seal packaging method, requirements become even more complex as historically material options were limited to PS-based structures, which are not in-line with sustainability objectives. So how do you balance the increasing list of requirements while remaining within the capabilities of existing equipment?
While we don't necessarily agree that non-plastic alternatives always offer the best way to improve sustainability - that's a topic for another blog post. Regardless of your perspective on plastic packaging as it pertains to sustainability, the reality is, depending on the shelf-life expectations and required food processing method, that plastic packaging offers one of the best options to deliver not only on processing and sterilization requirements, but for barrier protection, efficiencies and yes - even sustainability - especially in comparison to heavier alternatives such as aluminum or glass.
Such is the case with food products produced using hot-fill processing, which uses heat to sterilize the food product and subsequently the inner surface of the container during the filling process. Depending on the food product, cooking temperatures can reach up to 194-204°F as a method of killing bacteria and microorganisms present in the food. By the time the product is ready to be filled into containers, it can still be around 179-185°F (application dependent). As a result, use of the hot-fill processing method requires a material solution that can withstand the temperature requirements of both product and process.
Below are several ways that ICPG's XPP Polypropylene Solutions can help brands expand product offerings in hot-fill packaging:
Increased Temperature Resistance
In general, hot fill processing is well suited to food products that are viscous/liquid products that can flow into the container with minimum to no particulate. However, certain foods have to be heated to significantly high temperatures, increasing the demands on the material. In addition, food products that have a high moisture or fat content can degrade the container if produced from a lower temperature-resistant material.
Implications of using a material solution with a lower temperature resistance such as PS or PET in hot-fill processing include:
Limited food product selection to options that can be cooked at lower temperatures

Lower residual cooking resulting in potentially reduced or shorter shelf-life

Reduced cooking temperature leading to longer dwell time, slower line speed and reduced efficiencies
In terms of material selection, polypropylene offers the best fit for hot-fill applications in comparison to alternative plastic materials like PS & PET (yes, even in comparison to expensive high-heat PET materials), and especially in comparison to non-plastic alternatives. With the highest operating temperature in comparison to PS & PET, polypropylene can be hot-filled at a temperatures up to around 205°F, expanding the range of food products that can be produced using hot-fill processing.
As a result, use of a high-heat tolerant material like XPP allows for a higher cooking temperature, a 25 - 50% reduction in cooking time (application dependent), and increased efficiencies and production capacity.
Enhanced End-User Experience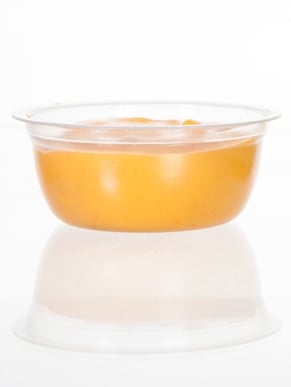 When designing products for use in hot-fill packaging, brands must consider the intention of the container and the end-user's experience - and safety - when using the product and take measures to retain package integrity throughout the supply chain. A prime example of this is microwave-ability. If a product is designed to be microwaved but the packaging material used ultimately cannot withstand the temperature demands, the result could be a degraded container or ruined product.
Here, it is critical to consider the food product due to how different foods react when heated in the microwave, which can significantly impact the packaging. Take for instance, nacho cheese. When microwaving products with a high fat content like cheese, the fat present in the product will exceed the temperature of water and can burn or degrade the packaging material. As a result, existing hot-fill products packaged in PS aren't necessarily safe to microwave if they have a high fat content due to the lower temperature performance range of the material.
Because of the aforementioned high heat tolerance of polypropylene, products packaged using XPP can be safely put in the microwave without compromise to container and/or material integrity. In addition, polypropylene products offer superior organoleptic properties to preserve the taste and aroma of the product without migration from the material. As a result, this increase in end-user functionality and food product compatibility offers brands expanded options when considering new product development from microwavable desserts, dairy, cheese and much more.
Customizable Barrier
XPP Polypropylene Solutions offer three "levels" of barrier to choose from giving brand owners multiple ways to expand their product offerings:
XPP Enhanced Barrier formulation is suitable for low to medium barrier applications and offers inherent improvement to barrier properties without the use of specialty materials, additives or coatings providing:

Up to 90/90%

improvement in OTR/MVTR barrier protection vs traditional PP
Up to 100/150% improvement in OTR/MVTR barrier protection vs PS

XPP High Barrier

solutions utilize our patent-pending XPP formulation coextruded with EVOH to deliver barrier requirements suitable

for shelf-stable and extended shelf-life applications.

XPP with ICPG's Reimagined Barrier (RE-BA)

utilizes our patent-pending XPP/RE-BA formulation to deliver a functional replacement to EVOH and PVDC barrier materials for a simplified and more sustainable barrier material solution.
Utilizing the various versions of XPP enables brand owners to customize these performance structures based on food product, expanding to applications with different shelf-life requirements while improving equipment utilization through use of the same mold resulting in multi-purpose containers for different products. For example, customers producing products such as dips and salsas can effectively alternate between products and fill by simply switching out one XPP material structure for another all with minimal line and process changes.
Equipment Compatibility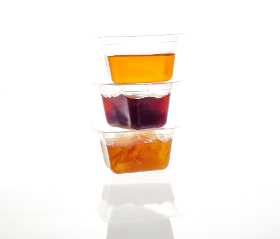 Whether developing packaging for pre-formed or form-fill-seal containers for used with hot-fill processing, use of XPP solutions offers enhancements to key properties that simplify the material replacement process and offer compatibility with existing equipment and tooling:
Controlled Shrink: XPP offers similar shrink rates to PS allowing for compatibility with existing equipment and tooling in thermoforming and FFS. This is an inherent characteristic of the material achieved without the use of mineral fillers such as talc or calcium carbonate, thus maintaining PP density.

Increased Stiffness: Traditional PS materials offer a flex modulus/stiffness specification of about 300 KPsi. In comparison, XPP materials offer over 30% improved stiffness, resulting in a stronger and more rigid solution compared to traditional PP and PS. This increased stiffness also presents an opportunity for down-gauging and light-weighting of existing structures produced at thicker gauges to combat the wasting or paneling sometimes experienced during the cooling stage of the hot-fill process.

Snap-ability: This increase in rigidity & stiffness maintains the "snap-ability" and "scorability" of PS required in certain FFS applications, allowing for application versatility and product line expansion without the need to re-tool.

When combined with the various customization options available for shelf-life, the processing characteristics of XPP means that brands can easily change out structures to accommodate the shelf-life requirements simplifying product line expansion. In addition, brands interested in material replacement, such as replacing a monolayer PS structure used in FFS with XPP Enhanced Barrier, or a PP/EVOH structure for a pre-formed cup application with XPP/RE-BA, can do so without having to make costly equipment modifications or investments in new tooling.
Improving Sustainability
Brands searching for a sustainable packaging option for use in form-fill-seal hot-fill packaging have been historically left with limited options. In FFS, material selection for hot-fill applications was confined to multi-layer barrier PS or PVDC coated PS structures because traditionally that was the only material that offered compatibility with form-fill-seal platforms. However, these structures use problematic materials that are not recyclable.
XPP is produced from 100% polypropylene materials, which offers several advantages from a sustainability perspective including:
Lower density & increased resource efficiency vs PS & PET

Lighter-weight parts

Less solid waste by weight

Reduced material consumption vs PS & PET

Classification as PP (RIC #5) for recycling purposes
With XPP, even the high barrier and RE-BA formulations of XPP can be classified as polypropylene for recycling purposes to offer the perfect mix of sustainability, process compatibility and application versatility to innovate product lines and enhance consumer experience.
---
Interested in learning more about how you can expand into new applications with XPP? Download the XPP Product Sheet to learn more about the capabilities of this material: